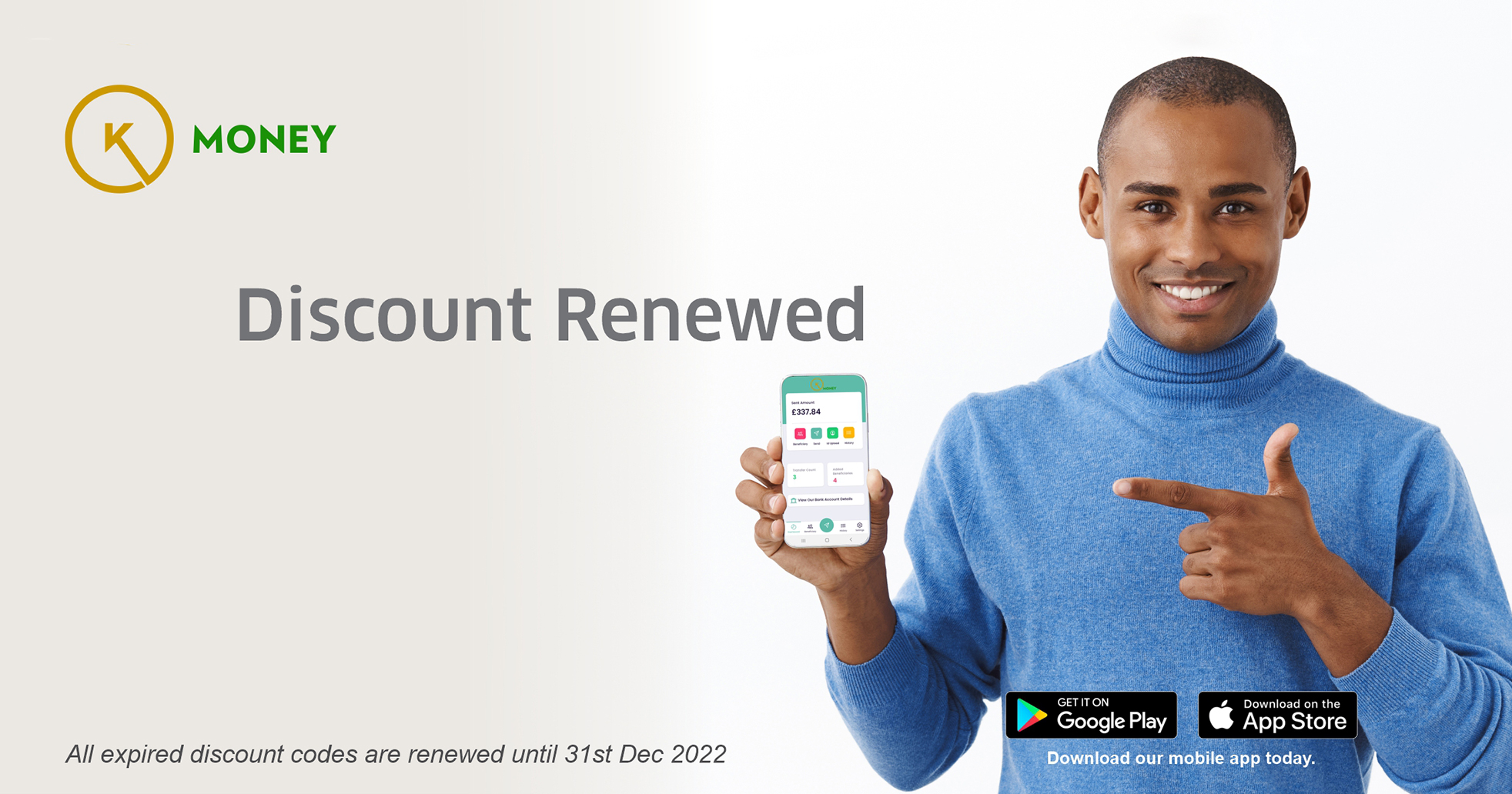 We Value the Discounts
It is a well-established fact that inflation is on the rise and prices of all commodities are soaring. As a result, the common public is finding it difficult to fit everything within the budget. As a result, discounted goods have gained popularity among buyers. The products which have been unaffordable before, become affordable when the prices are marked down or discounted.
Discounts at K Money:
At K Money, we treat customer like the KING. We value our customers and offer certain discounts. We offer a 100% discount on transaction fees for any one transaction of your choice. We also offer a reward of £5 to customer for every friend they refer. When the new customer signs-up using a referral link and transfers above £50, the customer who referred him becomes eligible for £5 reward which is added in his wallet.
If the coupons are available can be used by entering the given promo code while conducting another transaction. As with any other discount, this discount comes with a validity period. It has come to our notice that some of our customers have not availed benefit of this discount within the validity period.
With rising inflation in the UK, a discount of £5 is not a negligible amount and can go a long way in soothing the pocket. While £5 is less than minimal wage for adults in the UK, it is certainly enough to cook a carefully planned dinner for a small family.
Our understanding is that our customers registered and qualified for the discount coupon have kept coupon in reserve to use it later. Unfortunately, they missed the expiry date of the coupon in the process. We are aware of the difficulties faced by our customers due to rising fuel and energy prices which has led to increased cost of living. The COVID crisis has also led to a major drop in the national GDP and many of our customers have suffered from a serious financial difficulties due to this. Taking into consideration above situations, K Money has taken the initiative to extend the validity period of the expired promo codes till 31st December 2022. We request all such customers to please grab this opportunity and don't miss out again.
We also offer different discounts for various seasons. We therefore suggest you to keep looking up our website for the latest amazing offers and make use of the available discounts in a timely manner.
Send money to Nigeria with Credit and Debit Cards. Transfer via the app, in-store or online. Remittance is by cash or bank transfer.
Register on our website now to discover how hassle free it is to transfer Naira to your loved ones in Nigeria.